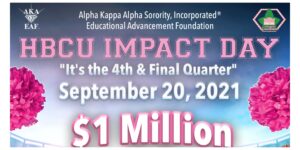 Make a donation via link below:
Select our local HBCU, Texas College!!!

Welcome to Our Chapter Website
Thanks for visiting our chapter website. We are making many strides to increase our web presence by extending our service and mission to you globally. Please explore the pages and learn more about the Gamma Omicron Omega Chapter located in Tyler, Texas.
Alpha Kappa Alpha Sorority, the nation's first sorority established by African American women, was founded in 1908 (112 years ago) at Howard University in Washington, D.C.  Our history of service, scholarship and sisterhood span the globe through the work of its more than 300,000 members.
Since its founding, Alpha Kappa Alpha Sorority has implemented programs of service impacting countless lives in such key areas as education, health, the family, and economics. The organization's community impact and scope have expanded greatly as a result of these service initiatives.
The program theme for 2018-2022 is Exemplifying Excellence Through Sustainable Service. The International Program includes five program targets that are designed to advance the mission of Alpha Kappa Alpha with excellence and underscore our commitment to sustainable service.  
The five program targets for 2018-2022 are:
Target 1: HBCU for Life: A Call to Action
Target 2: Women's Healthcare and Wellness
Target 3: Building Your Economic Legacy
Members of Alpha Kappa Alpha Sorority, through its 986 local chapters, will have an opportunity to address community needs with this new platform of service. 
 The Signature Program is #CAPSM which is the abbreviation for College Admissions Process. It is designed to assist students in their efforts to enter college by providing a hands-on approach that includes all the steps from researching various colleges to actually completing the application process.
In addition to the program targets, the Exemplifying Excellence Through Sustainable Service administration is pleased to continue Community Impact Days. Chapters will engage in simultaneous activities that will benefit the community and continue our commitment to lifelong service.
A significant feature of this programmatic thrust is the launch of AKA UniversitySM! This exciting new platform will serve as the umbrella under which education, training, and leadership development will emerge so that members can enhance their personal development and provide more impactful service to the community.
Source:  https://aka1908.com/programs 
I am honored and humbled by the privilege to serve as the local chapter's President. Gamma Omicron Omega Chapter has served Tyler and the surrounding area for 78 years and has made a definite impact in the Community through service projects, charitable donations, and scholarships. During this tenure, we will seize moments of sisterhood and service; holding the torch high, as we continued a profound legacy of excellence and service to all mankind. 
We are located on 1400 W. Lollar Street, Tyler, Texas 75702
Dr. Shirley McKellar
Gamma Omicron Omega Chapter President 2020-2022
Alpha Kappa Alpha Sorority, Incorporated®